We can help you achieve your water conservation goals with the innovative products available from our manufacturers. Water conserving faucets that make their own power at flows as little as 0.35 gallons per minute (GPM). Dual flush toilets that save 40% over conventional designs. Urinals that use no water at all that save from 20,000 to 40,000 gallons of fresh water per year. Low flow shower heads that will actually get you clean!

Chicago Faucets, Product leader for more than 100 years.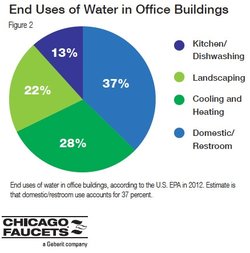 Cheap Water is a thing of the past
Rising water and sewer rates will be among the biggest challenges facing facility owners and managers in coming years. Owners and managers will need to invest as much in water conservation as they have in energy efficiency over the past several years, and will need to find savings in places they previously ignored.
Of course, rising costs are nothing new. A recent study by consulting firm Black and Veatch found that average
water and sewer rates across the top 50 U.S. cities doubled between 2000 and 2013.
Annual increases were two-and-a-half times those in the consumer price index. But as steep as those increases have been, the rate of increase is poised to accelerate. We can help. As a member of The
U.S. Green Building Council
, a sponsor of
The Alliance for Water Efficiency
and a proud partner of the EPA's
WaterSense
program, we are dedicated to not only meeting the challenges of a changing world, but to providing practical solutions to our valued customers who have trusted us for more than a century with one of their most basic needs, the delivery of clean, reliable water for education, healthcare, commercial applications and hospitality.
---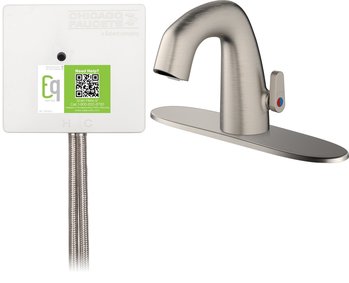 The EQ Series, Save Now, Save Later!
Chicago Faucets
have been the undisputed leader in the advancement of faucet design for more than 100 years. We have faced and met every challenge over the years, from the complete removal of lead from our brass alloys at the beginning of this decade to the emerging world of water conservation. Recently, flow reductions by voluntary and mandated standards for all water consuming fixtures have become the new reality. As a result, we are very proud to introduce the
EQ series
of commercial grade sensor faucets that can produce their own power at the extremely low flow rate of just 0.35 GPM. This faucet requires no batteries or AC connection and can power itself nearly indefinitely and remain effective even during long periods of no usage.
---