DHC-E Series 8, 10, 12 kW Tempra Series 12 through 36 kW

Saves Energy and Reduces Your Electric Bills
Changing to a tankless system means there are no standby losses that tank-type water heaters are subject to. This results in savings of at least 15-20% in comparison with an electric tank water heater.
Unlimited Supply of Hot Water!
Because an on-demand tankless heater heats water only as it is used, and only for as long as it is needed, there is an endless supply of hot water. Nobody runs out of hot water in the shower, even if the showers run extra-long. Ever!
Easy to Install
Large and bulky hot water tanks are usually placed in a basement or utility room. Because the tank may not be close to where hot water is used, there is a wait for hot water. An on-demand tankless heater compact design can be installed close to the hot water use areas. When this can be done, in new construction for instance, the wait for hot water becomes as short as possible. Even in a retrofit, where it might not be possible to place a Tempra closer to the hot water draw-off points, its considerably smaller size has many advantages.
No Venting or Temperature and Pressure Relief Valve Required
An on-demand tankless heater are electric and require no venting or "T&P valve". This allows for more flexibility when determining the best place for installation. All conventional tank water heaters require a temperature and pressure relief valve that must be plumber to a sanitary sewer connection. Because tankess water heaters do not store hot water under pressure, no T&P valve required and no sewer connection as a result!
Seismic Proof Construction
Because an on-demand tankless water heating system, it is not subject to seismic building code. There is no need for the preventative construction required with a tank water heater.
Maximum Output Temperature Limit Feature
An on-demand tankless water heaters can be set to limit the maximum hot water temperature to 109°F. This can be important in some installations to prevent the possibility of scalding.


Tankless Electric Water Heating Guide for Hawaii Residents

It's all about the Amps! The primary deciding factor for switching to tankless electric water heating is making sure you have enough "amps" in your electrical service. Conventional water heaters run off a 30 AMP 240 volt circuit breaker. There are only a few devices in your home that require 240 volts, typically the stove/oven, the electric clothes dryer and the electric water heater. The breaker is sometimes referred to as a "double pull" breakers, as two 120 volt breakers are linked together to get the 240 volts these high draw appliances need. So, the question is, why can't I just replace my conventional water heater with a tankless?
A conventional water heater uses a single 4500 watt heating element to heat the water. Although most water heaters have 2 elements, they are made so that only one element comes on at a time. That's why when you run your tank out of hot water, you typically have to wait about 40 minutes or so to get hot water back. The rate of heating from a 4.5 kW element is such that a tank water heater has to store hot water, because it can't produce it fast enough to keep up with demand. So, a tankless electric water heater has to make hot water as fast as you use it, and that takes more power, but for a much shorter period of time. When you are not using hot water, the tankless heater uses zero, none, zip, zilch electricity! Because our DHC-E and Tempra series are electronically controlled, they only use as much electricity as required to heat the flow of water being used. In other words, it knows the difference between you washing your hands and having a full on shower! So, there are two kinds of saving to be had, no stand by heating to keep that tank of hot water hot all day when you are at work and all night when you are asleep, and variable power usage. When you use enough hot water to trigger the thermostat in old faithful, it only has one speed, 4500 watts. Our electronically controlled tankless can vary the output from full power down to just 20% of the rated heating capacity.

Temperature Rise versus Flow for our Different Models of Tankless Heaters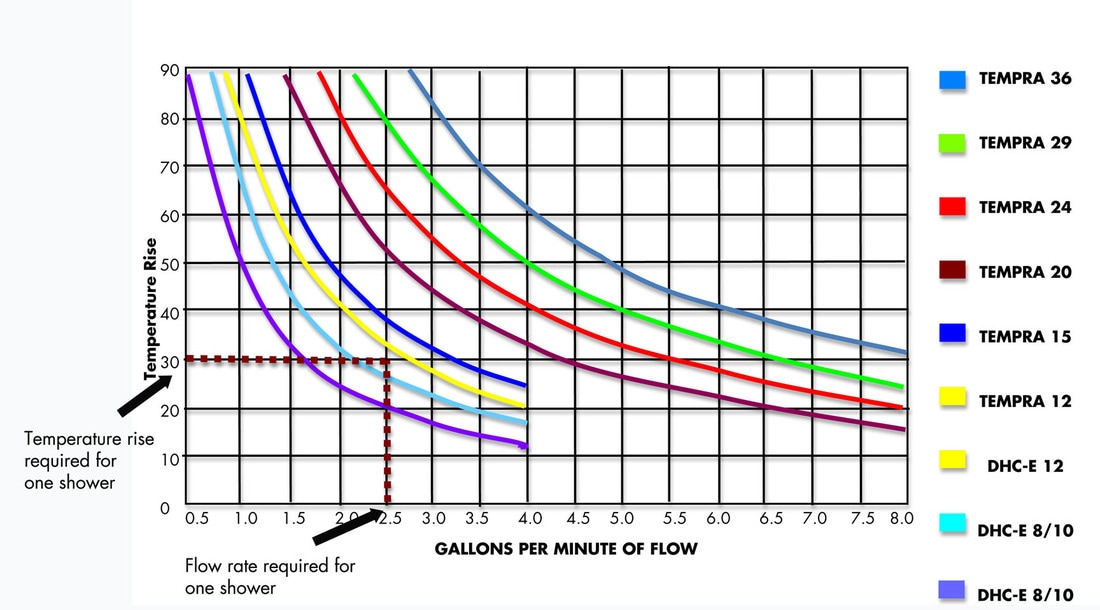 Here's the basics. The only place where hot water really matters is the shower. We all want a decent hot shower. A shower is anywhere from 1.5 GPM (gallons per minute) for a low flow, water conserving shower head up to more than 3 GPM for a rain shower style. A comfortable shower temperature is about 104 degrees for men, and about 106 degrees for women. Our groundwater temperature is around 70 to 72 degrees F with very minor seasonal variations at sea level, and can get down to the low sixties or even less at altitude. (Volcano and parts of Puna on the Big Island, Pukalani & Kula on Maui, for example). So, in general, we need to raise a flow of about 2.5 GPM with a temperature rise of about 34 degrees to get a nice shower. The chart above shows how our various models of tankless heaters perform in terms of the temperature rise they can produce at differing flows. The absolute basic one shower requirements to replace an existing tank water heater are marked on this chart. This turns out to be 12kW here in Hawaii, and that requires a 50AMP/240Volt circuit breaker to seamlessly replace an existing tank style water heater.
To go below this, you will need to either use a lower flow shower head, or shower at a bit less than 104/106 degrees. JM Sales, with our Caroma Line, offers the best low flow shower head on the market, and the only one featuring an adjustable spray to concentrate the flow to rinse shampoo from the longest hair! So, it may be possible to actually replace your 30AMP/240V tank water heater with a 8-10kW heater!!

Condo Owners: The Direct Swap, it can be done!


Take a bold step!
You can replace your conventional tank water heater with a DHC-E 8/10 at 30 amps, with a
Caroma Flow
low flow shower head. Your installer will have to "balance" the new installation, but you can have a comfortable, hot (and endless!!!!) shower without major rewiring or re-plumbing! You have to confirm that your existing water heater has 8 AWG (American Wire Gauge) installed, and the plumbing connections will be downsized to 1/2" from 3/4" (typical on a tank style), and a inlet ball valve on the cold water supply to the heater to balance the system. Now you get your closet space back, and save 10 to 30% on the cost of heating water for you condo! Maybe best of all, because our tankless water heaters don't store 30 or more gallons of hot water in the closet or under the kitchen counter, the risk of a leaking tank water heater is eliminated. (We offer a 7 year warranty against leaks, and a 3 year "direct replacement" warranty for our electronics and heating elements!)
Add hot water where you never thought possible!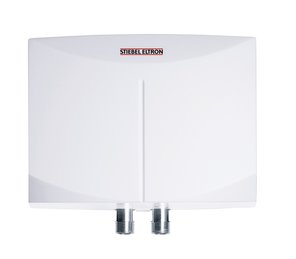 The Stiebel Eltron MINI Series is for a single point of use application. With 6 models with power requirements ranging from 20Amps at 120V up to 30 Amps at 240V, the MINI series can provide an limited supply of hot water for a single fixture, like a break room sink or even a washing machine. The 240V version will work also work in 208V environments, so if you have a shop or a small manufacturing facility, you can have hot water for hand and dish washing, or even run a dishwasher or washing machine. The inlets and outlets are the same size as the braided steel hoses that supply most faucets, so installation is simplified. All these units need to be "hard wired" (they don't plug into an outlet), but no tank water required to provide hot water for a single location that may require hot water. Our clients include many, many mall stores around Hawaii where there is no distributed hot water system, as well as many automotive body shops and downtown offices in buildings with no central hot water. Even the Dole Plantation has them installed!

---